THE SHADOW THEATRE OF ANAPHORIA
---
The Shadow Theatre of Anaphoria Island, like the island itself, functions as a sanctuary of the marginalized, the obsolete, the exiled and the extinct. we welcome those refugee aspects found thoughout the global imagination, the dream worlds and even 'adult' realities into a new belonging. Here is a meeting place dancing with contemporary spiritual and social concerns through craziness, myth, politics, spirits and live music on original instruments.
---
coming in the future - check back for details
THE CITY THE COLOUR OF STARS
---
our last show
NATURE ON THE LOOSE
STARRING
Hayley Carrick, Joshua Mills, Jariss Shead, Jess Boyle, Jiahong Zhao, Terumi Narushima, and Kraig Grady (Director)
FRIDAY- SATURDAY 19-20 AUGUST 2022 7 PM
This project is funded by the Wollongong Art Gallery and a Wollongong City Council Grant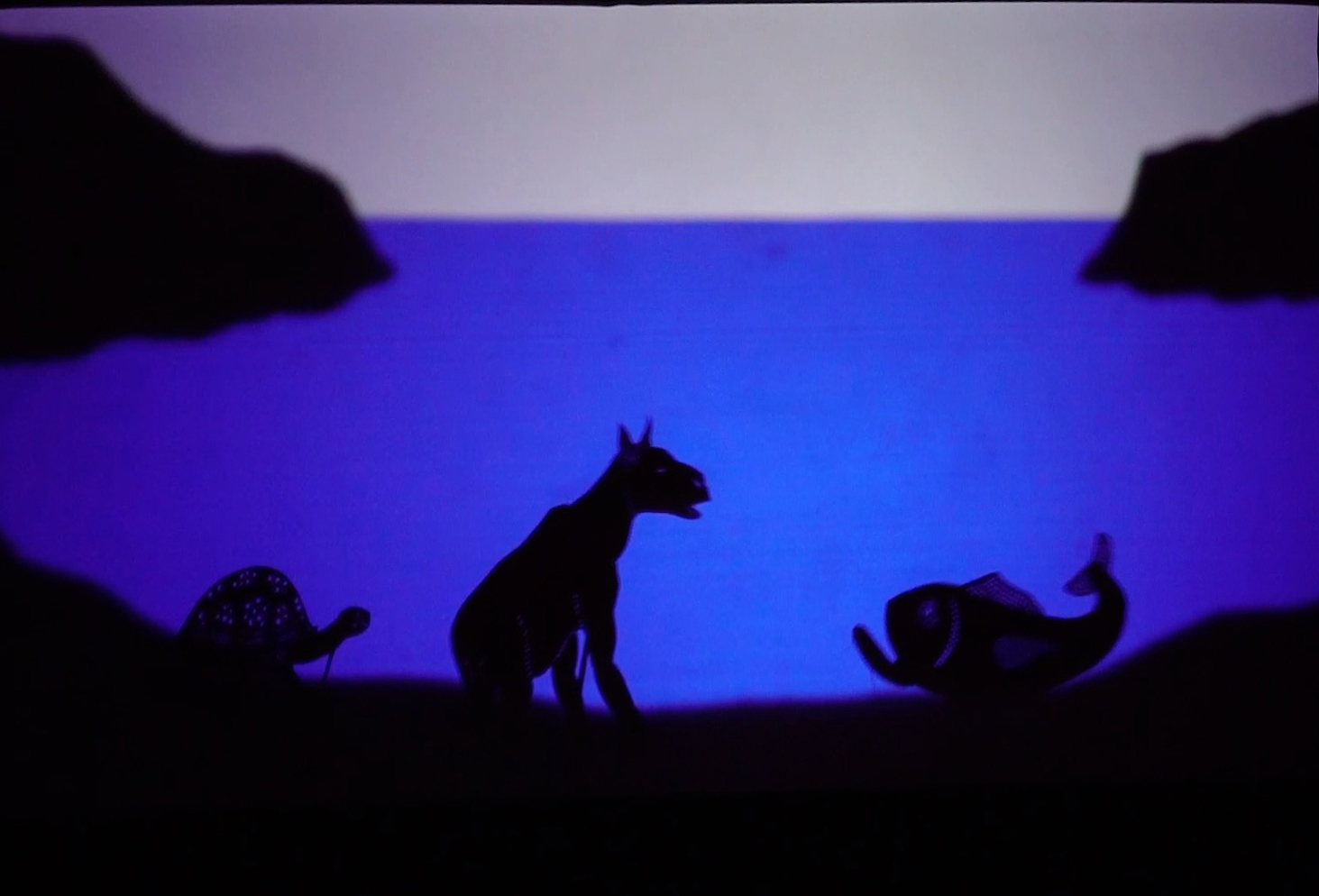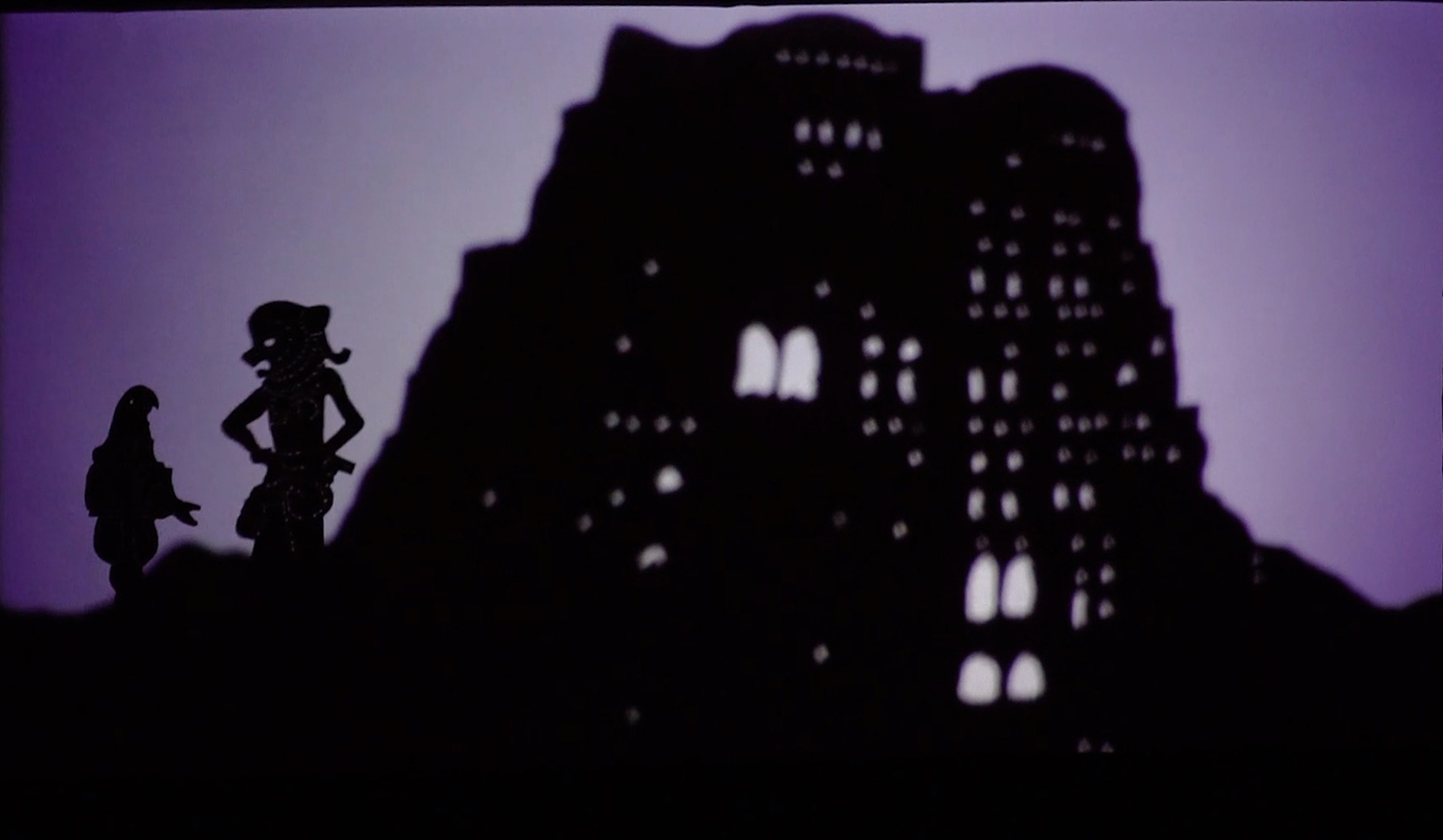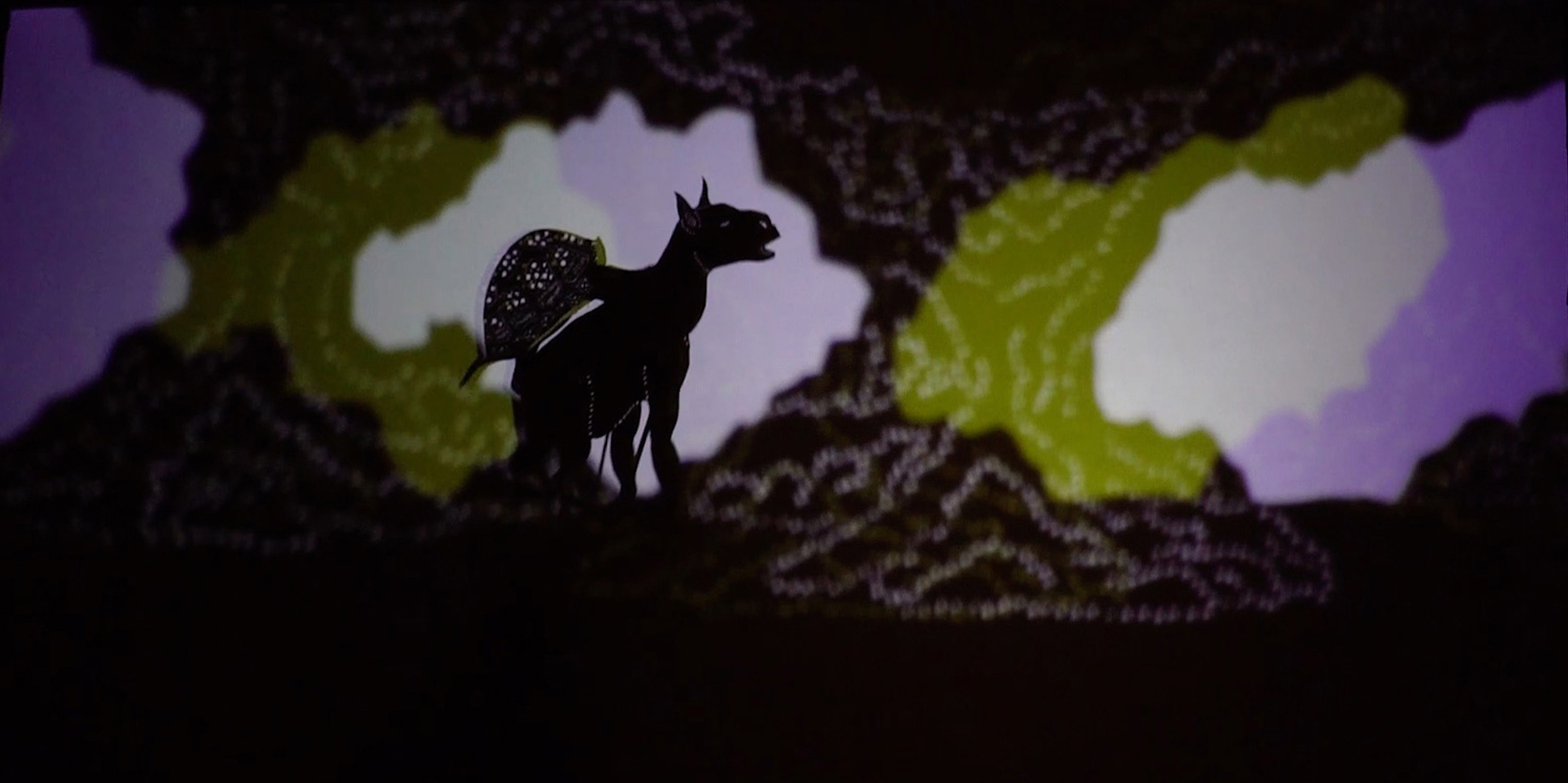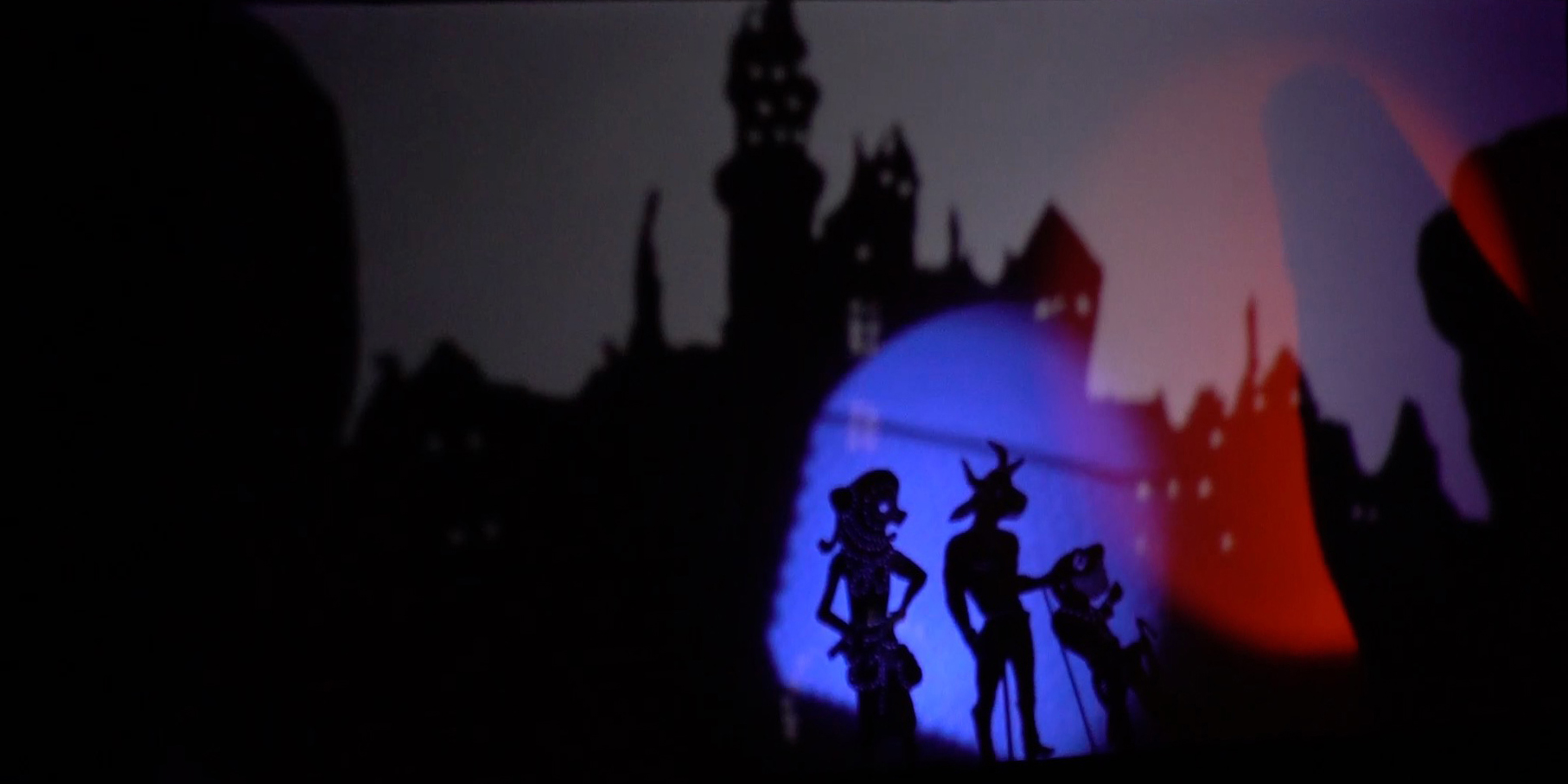 ---
MARCH 2020 ARTICLE IN GARLAND MAGAZINE
---
Founded in 1996, performances of our shadow theatre have included presentations at The Norton Simon Museum of Art, The Pacific Asia Museum (Los Angeles), New Langton Arts (San Francisco), The Stella Adler Theater (Hollywood), and served as the resident company of the Folly Bowl, a special outdoor amphitheater constructed to provide a unique environment for our work.

The Shadow Theatre of Anaphoria appears to be the first shadow company to use puppets from a wide range of shadow puppet traditions. Anaphoria accepts each as an exile, allowing their characteristics to widen as they encounter others in similar positions. Out of great respect, we are careful to protect these from becoming a mere secularization of sacred objects.

While always making their own puppets for more than 15 years, the last few years have found a focus on our own puppet designs to bridge the gap left by traditional sources. Some of the least represented and differentiated puppets have been female puppets which we have pursued to broaden. Another focus has been the extinct and near extinction of many animals has caused us to preserve what we can of them. Our activities have also extended into installations that include many of the important artifacts of the company which has now relocated to Wollongong, Australia. We are interested in expanding our numbers and activities. To be added to our e-mail announcement list or expressions of interest
please drop us a message


More details of our history and underlying spirit can be found on this page below . The instruments of the shadow theatre can be seen here.
---
GALLERY OF OUR PUPPETS IN PROGRESS
(Click on images for close-ups. takes a second or two to load)
Photos Gary Warner
---
STILLS FROM FORMER PRODUCTIONS
---
THE BROOK OF NO RETURN
STARRING
Jariss Shead , Terumi Narushima, Hayley Carrick, Joshua Mills, Jess Boyle, and Kraig Grady (Director)
FRIDAY- SATURDAY 20-21 SEPTEMBER
WOLLONGONG ART GALLERY , Corner of Kembla and Burelli Sts, Wollongong. Phone 02 4227 8500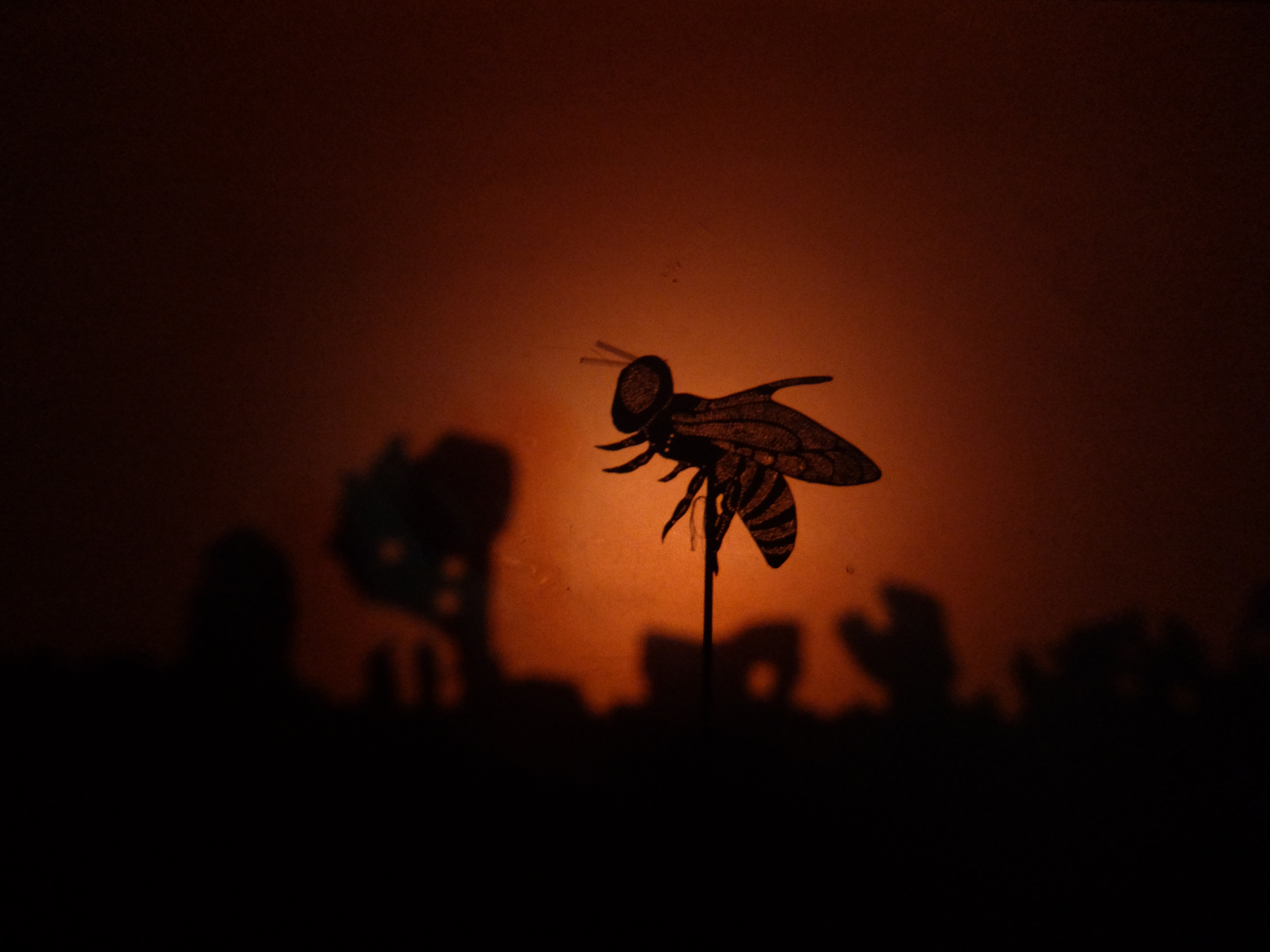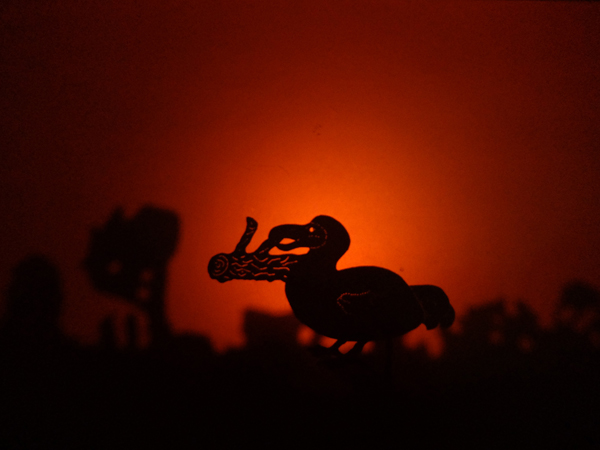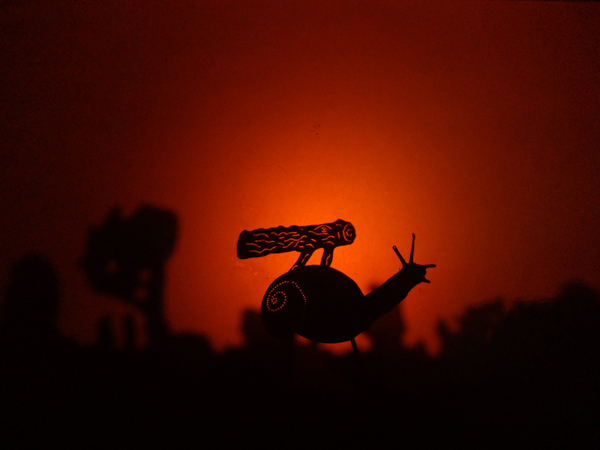 an earlier version appeared
FRIDAY- SUNDAY 23, 24, 25 NOV. . 2018 SERVO
6-8 Wentworth St, Port Kembla
FRIDAY-SATURDAY NOV. 30-DEC.1.
Doors open 6:30 Show at 7:00 pm
ST. LUKES CHURCH
11 Stanmore Road, Enmore, Sydney
---
The Shadow Theatre of Anaphoria in association with Geoffrey Sykes presents the first Australian performances

THE QUIET EROW [REDUX]
starring Kraig Grady [director], Seth Harris, Mark Kennedy, Friederike Krishnabhakdi-Vasilakis, Hamish Lane, Terumi Narushima
Fri and Sat. 8pm Oct 9 &10, 16 &17, 2009
at the Bushland Chapel 94 Parkes Street Helensburgh
The Story of an Anaphorian Prenatal "Robin Hood"
Original version
THE QUIET EROW
The Story of an Anaphorian Prenatal "Robin Hood"

Starring Erika Anderson, Erin Barnes,
Kraig Grady (Main Director), Rebekah Greely,
Roger Mexico (Theatrical Director), Jonathan Silberman, and Tara Tavi

NEW LANGTON ARTS. SAN FRANCISCO MAY 13-14. 2005 8pm

THE FOLLY BOWL. ALTADENA (LOS ANGELES) MAY 21-22. 2005 8:30pm

pics from the 2005 production
---
THE FOLLIES OF DR. PLACEBO:
A Shadow Play w/o Dialog Inquiring into Future Healing Gone Awry

Starring Jason Bagley, Erin Barnes, Cory Beers,
Kraig Grady, Sophia Grady, Roger Mexico, Laura McMurray, Ben Rojas
Amy Pigg, Spencer Savage, Neil Starrett, Tara Tavi, and Amy Wolkins


THE FOLLY BOWL. ALTADENA (LOS ANGELES)
SAT MAY 26 & SUN MAY 27. 2007 8:30pm
1601 East Loma Alta Dr. Altadena, CA 91001
---
THE PILGRIMAGE OF MIRRORS:
A Non-Linear Realization of The Reincarnation of Dreams

Starring Jason Bagley, Erin Barnes,
Kraig Grady (Main Director), Sophia Grady,
Roger Mexico (Theatrical Director, Neil Starrett,

THE FOUND THEATER ( LONG BEACH) June 17-18, 24-25 8:00
599 Long Beach Blvd. at 6th St. Long Beach .
reservations 562-433-3363

Premiered at
THE FOLLY BOWL. ALTADENA (LOS ANGELES)
SAT MAY 27 & SUN MAY 28. 2006 8:30pm
1601 East Loma Alta Dr. Altadena, CA 91001

general info: 323 258 3260

Some Untouched Images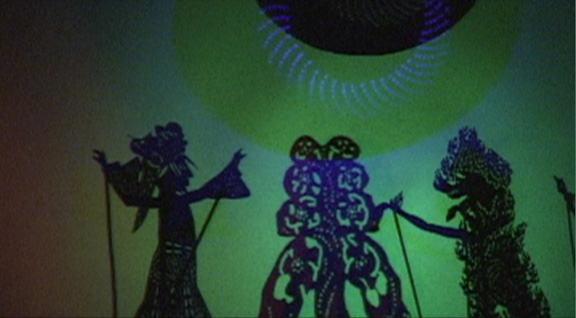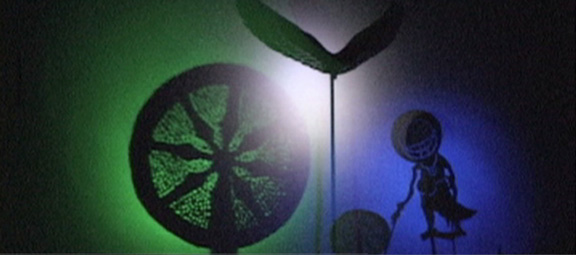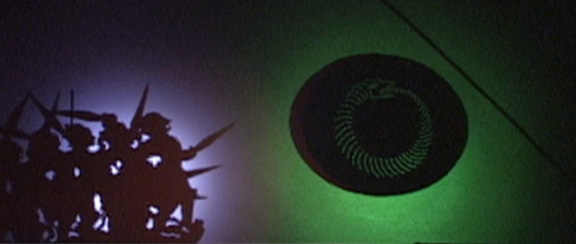 ---
FRENZY AT THE ROYAL THRESHOLD
The Legend Behind Anaphoria's Most Famous Marriage
starring and assembled by
Erin Barnes, Owen Chase, Kraig Grady (Main Director), Rebekah Greely, Roger Mexico (Theatrical Director), and Tara Tavi (as the Princess)
PACIFIC ASIA MUSEUM
46 North Los Robles. Pasadena. CA
Saturday and Sunday . May 15 & 16 8:00 pm
Pictures from FRENZY AT THE ROYAL THRESHOLD at the Norton Simon Museum of Art, Pasadena CA. Oct 24, 2003 starring and assembled by Whitney Arnold, Erin Barnes, Geoffrey Brandin, Kraig Grady, Lyndsay Griffin, Roger Mexico and Rick Potts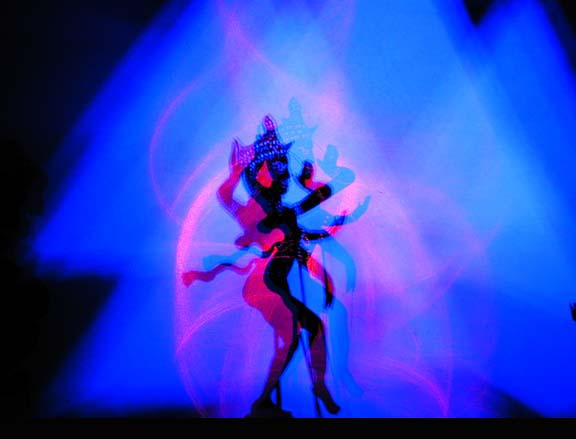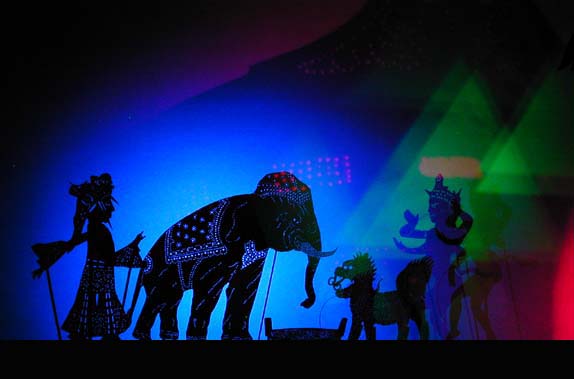 ---
Pictures from
THE STOLEN STARS
Starring Whitney Arnold, Erin Barnes, Geoffrey Brandin, Kraig Grady, Tim Ottman, Rick Potts, and Rainbow Underhil
Black Cat Gallery, Culver City May 23, 24, 25, 31 & June 1, 2003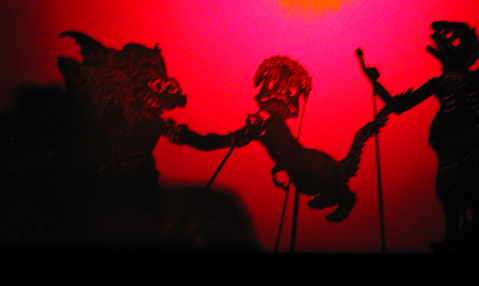 ---
Pictures from
THEIR VENTURE BEYOND THEIR HORIZONS
An Anaphorian Shadow Play written by Isafa

Starring Erin Barnes, Geoff Brandin, Kraig Grady, Rainbow Underhill, and Roger Mexico
Saturday May 18 2002
Pacific Asia Museum, Pasadena
---
Pictures from
HER STIRRING STONE
A Mythical Journey in Search of a Lost Object

Starring Erin Barnes, Kraig Grady, Johnathan Marmor, Roger Mexico, Quentin Tolimieri, Rainbow Underhill
HollyMatter Art Gallery May 4 & 5 2001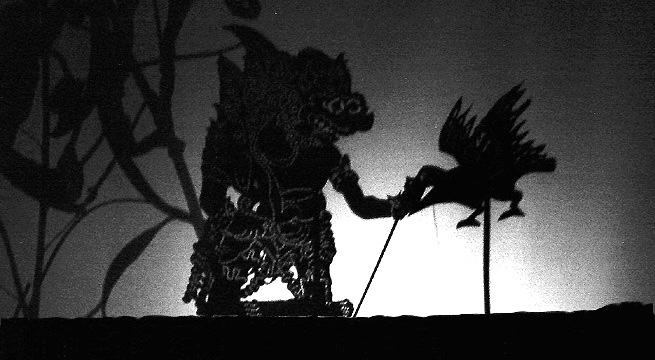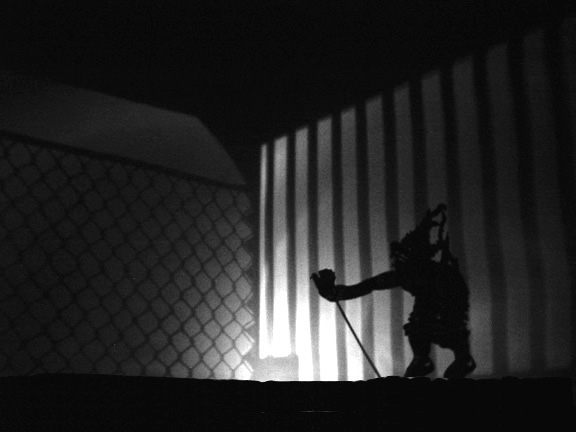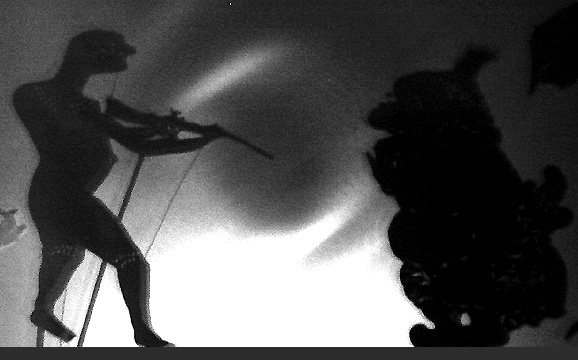 ---
EARLIER PRODUCTIONS
TEN BLACK EYE was presented at Stella Adler Theater Oct. 27, 1996 and was Assembled by Kraig Grady, Roger Mexico, Brad Smith, and Yelena Tokman.
The title TEN BLACK EYE comes from the Anaphorian word, ten, the word for shadow, and Black Eye the translation of the word Fum, a character found in these stories. Mt. Meru is the holiest of mountains as well as a divine mathematical sequence.
TEN BLACK EYE is an exposition into some of the fundamental beliefs behind the medium of the shadow play. The shadow world is understood as an intermediary world between the living and the dead. The characters Prince and Fum examine their paths to truth.
TEN BLACK EYE II was presented at the Pacific Asia Museum Nov. 8 1997, and was assembled by Kraig Grady, Laura McMurray, Roger Mexico, Laura Pedretti, Genee Pytlewski, and Joe Seely.
Some notes concerning BLACK EYE MERU, HER STIRRING STONE and THEIR VENTURE BEYOND THEIR HORIZONS
In recent years , The shadow play has experienced an explosion of new works. One dominant force has been the playwright known as Isafa. There is a mystery that clouds the identity of this individual. Only through selected puppet masters, sworn to secrecy, have these plays been made public. Rumors have varied from Isafa being a woman of notoriety to Isafa being a collective endeavor. All these rumors have to be looked at as just that-rumors. The unique style though points toward a remarkable individual of unique vision. As opposed to a strong narrative, Isafa presents us with a labyrinth of signposts. Although linear, Isafa's devices have a way of potentiating our own personal interpretations.
BLACK EYE MERU -
A work in progress version of BLACK EYE MERU was presented at Glaxa Studios Oct. 25 1998 and was assembled by Erin Barnes, Geoff Brandin, Kraig Grady, Ryan Hildebrand, Roger Mexico and Angela Sanderson.
BLACK EYE MERU was premiered at Villa Aurora Sept. 24, 1999 and was assembled by Erin Barnes, Geoff Brandin, Kraig Grady, Rebekah Greely, and Roger Mexico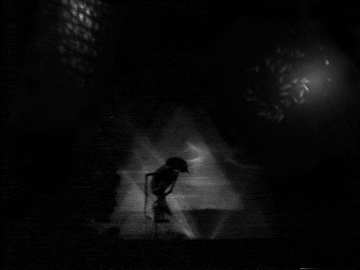 ---
THE SHADOW THEATRE OF ANAPHORIA
The plays of the Shadow Theatre of Anaphoria present the mythology of Anaphoria Island, complete with love stories, moral tales, battles, spiritual quests, and urban legends. Its themes include supernatural forces, spirits, animals with voices, and other magical possibilities, or deal with contemporary subjects such as immigration, the ethics of science, or the corruption of empires.
The puppets reflect the essence of the Shadow Theatre of Anaphoria. They draw upon different puppetry traditions from around the world as well as the unique characters found in Anaphorian narratives. Some of these include female puppets that are absent in traditional shadow plays, including a doctor, a shoe-thrower, a sleepwalker, a pregnant woman, a femme fatale, or a philosopher carrying on her head a large basket resembling a brain. Some of the other puppets in the Shadow Theatre of Anaphoria include a beggar, an exiled couple, jail-keepers, clowns, surveillance officers, a puffed up "hero", angry crowds, and various animals. A few celebrity puppets have been used in cameo roles, but the focus is always on characters from the lower classes who would otherwise be homeless or marginalized by more mainstream media. Almost like antennae, the puppets tend to pick up and infuse what is in the air into the narrative of the play, resulting in each production being unique.
The Shadow Theatre of Anaphoria is not children's theatre since the issues and concerns presented are indeed also adult ones. It does not shy away from the gray areas, with characteristics both good and bad, like those commonly found around us. The plays are not hostile to children either. Older children are more than welcome but very young children are often scared by shadows regardless

HISTORY
The Anaphorian shadow play owes a great part of its development to the immigrants and exiles coming from such diverse regions as Indonesia, India, Turkey, and Greece. These rich traditions served as a further inspiration to an already growing art form. Anaphorian shadow plays have developed beyond a mere synthesis of influences into a creation of their own unique theatre. Legend states that Prince Mita on the death of his bride enshrined her image in shadow. It was under his great patronage that the shadow play blossomed establishing such classics as "The Three Frivolous Battles" Throughout history these traditional epics have been augmented with explosions of new myths and stories. In recent years, stories of film origin have found their way into the shadow theatre. This is surprising since film has never gotten a hold beyond a limited audience despite the international recognition of more than a few of its filmmakers. The great popularity of shadow theatre can be illustrated by the fact that time and time again the great Anaphorian filmmakers have returned to the shadow theatre bringing with it a new inspiration as well as a renewed respect. The Shadow Play, Ten Black Eye represents this new tradition that remains informed by combinations of past, present and its own future.
PRACTICE
The mixture and superposition of cultural influences have nurtured a shadow theatre that transcends being a mere conglomerate. Historically, due to its patronage, this theatre has been able to afford the luxury of larger ensembles. There is a trend toward the dispensing of the walls between the playing of music and the operation of puppets with those behind the screen producing shadows one moment and playing music the next. There is no fast and set rule though with some participating in one function. The polytheistic beliefs of the shadow troupes make the symbology of "multiple sources of light and shadow" meaningful. The result being the adoption of controllable electric light to separate parts of the screen and characters. This practice allows much of the screen at times to remain dark offending members of the older schools fearing a dominance of the dark forces. These opponents on the other hand recognize a marked difference between a darkness of evil and a darkness as "a basis of possible vibrations" and well as a symbol of "the vast unknown".
MUSIC
The music of the shadow play has a unique history. in the late nineteenth century, there occurred on our island what is known as the Great Missionary Expulsion. As a result, many western instruments were abandoned by their owners. For years they remained neglected. At one point, an instrument builder from Lipari realized that the reed organs could be retuned to a slendro-like scale and proceeded to do so. Very pleased with the sound, he spread the word. At first, the tuning was comprised of two sets of pentatonics, one slightly higher than the other. After some time they found that if they took the traditional Slendro scale and utilized a version derived from a 4,000 year old diagram known in India as Meru Prastara, the two remaining tones could be tuned as one of the scales implied by the diagram, thereby using all 12 retuned tones on the western instruments. Some attempts were made with pelog-like scales,but forming cycles of 5,7,9 or 14 tones did not fill out instruments with a 12 pitch cycle. Soon a whole array of retuned instruments emerged, deceptively looking like their western counterparts but bearing no resemblance in sound. The instruments of the shadow theatre can be seen here.
PEOPLE
It is with great thanks we express our gratitude to all those who have participated and left and everlasting mark upon this theatre.
Kraig Grady, director

Roger Mexico, Theatrical director

Tara Tavi

Rainbow Underhill

Erin Barnes

Rebekah Greely

Geoff Brandin

B.Ed Smith

Whitney Arnold

Sophia Grady

Terumi Narushima

Jason Bagley

Neil Starrett

Yelena Tokman

Johnathan Marmor

Quentin Tolimieri

Ryan Hildebrand

Angela Sanderson

Laura Pedretti

Cory Beers

Ben Rojas

Amy Pigg

Spencer Savage

Amy Wolkins

Erika Anderson

Jonathan Silberman

Seth Harris

Mark Kennedy

Friederike Krishnabhakdi-Vasilakis

Hamish Lane

Tim Ottman

Lyndsay Griffin

Owen Chase

Genee Pytlewski

Joe Seely

Laura McMurray
---
Here is an installation put together using recent puppets as an addition to our Shadow performance practices.