WELCOME TO
THE AUSTRONESIAN EMBASSY OF ANAPHORIA ISLAND
(RELOCATED FROM NORTH AMERICA)

Flag of Anaphoria
Derketo, Anaphoria
The following wings are provided to the public.
We suggest patience and an exploration in depth to appreciate
our many layered presentations.
---
STATEMENT OF PURPOSE
Our cultural (as opposed to political) mission is to establish a center to provide information about, as well as promote interest in, the cultural resources of Anaphoria Island. In 1993, a temporary field station was set up to facilitate the first in a series of concerts. This became the North American Embassy in 1994 following the Northridge Earthquake. It is the Anaphorian belief that traveling religious artifacts have been known to cause earthquakes as the result of evil forces fleeing their presence. The custom has been to house them in the location in order to prevent or detain their return. This embassy is thus our symbol of good will to the peoples of North America. Since its founding, it has been responsible for numerous concerts, lectures, shadow plays and publicly available recordings. In 2015, Anaphoria convened a meeting where it was decided that signs pointed to it being time to shift its focus to Austronesia and so this now acts as the central embassy.
---
GENERAL INFORMATION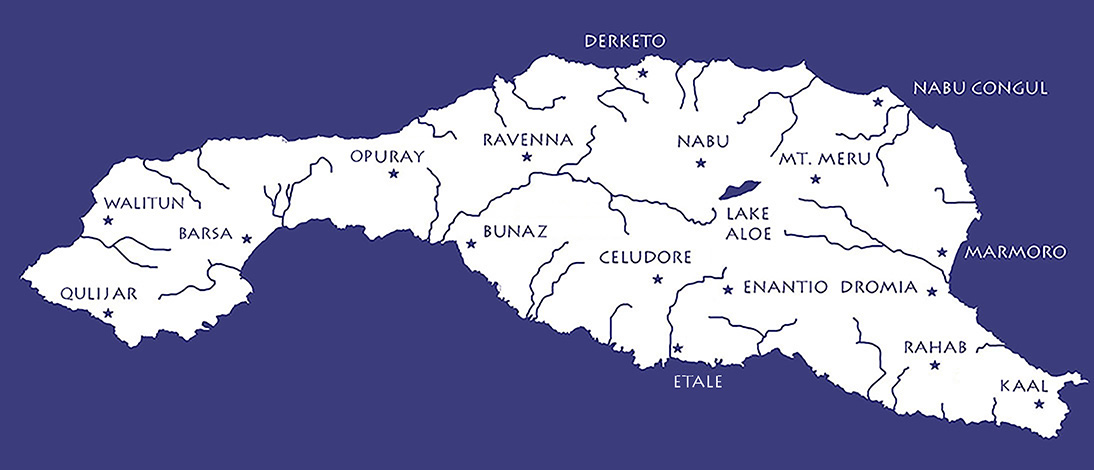 [ 7/2021 -Primarily in the west and southeast, the names of many cities have reverted to their older traditional ones.]
Part of the oceanic mesocosm, Anaphoria, located 1,000 miles from the nearest major land mass, is 6,432 square miles with a population of 43,234 (1990 census). No place on earth can rival its human diversity-73 [+ 5 now recently discovered in 2012-13] different ethnic groups- and it is just this diversity that is responsible for so many misconceptions about Anaphoria in the west; often only a single group is presented as "representing" the entire island of city-states.
Known even to its inhabitants as the "Isle of Exiles" because it has so long been home and host to expatriates from all over the globe, Anaphoria's myths and history feature many outcasts who appear from distant lands and inadvertently help overcome local crises. Researchers are often baffled to discover even inhabitants who have never been off the island referring to themselves as "foreigners". Eugenio Barba summed it up on his recent visit: "Many of us have a desire to remain foreigners."